HOW TO ADD A CONTACT OR EDIT YOUR ACCOUNT AT RIICON.CA
STEP 1: LOG INTO YOUR ACCOUNT
To edit your profile
To edit a sub-account or contact
You have to login to your account with your username and password. Use the login details that you have and go to this link: https://accounts.riicon.ca/clientarea.php. Click REQUEST A PASSWORD RESET if you don't know your login details.

STEP 2: ADD A CONTACT
You can find a dropdown menu for accessing your contacts

Click on the link and you will be redirected to a new page

You can add a new contact from here. You can also view the existingcontacts that you already have. You can click on those contacts to edit their information (email address, phone number, etc.)
STEP 3: EDITING YOUR OWN INFORMATION/CHANGE YOUR PASSWORD OR EMAIL ADDRESS ETC.
Under my details tab, you can edit your username (email) and other information on your profile.

Under the change password tab, you can change your password. And, the credit card details tab contains your billing information.

HOW TO SUBMIT A SUPPORT TICKET ON WHMCS?
To submit a support ticket on WHMCS, click the "Support" button which will lead you to a drop down menu. In that menu, you will get another tab named "Open ticket".

By clicking this tab you will be sent to another page where you will get 3 more options:
Support Department
Sales Department and
New Projects Department

As you can see above there are 3 different options for 3 departments.
Troubleshooting/editing/modifications on an existing website – should go under Support department
Questions about any of our products or services – should go under sales department
New website projects – should go under new project department.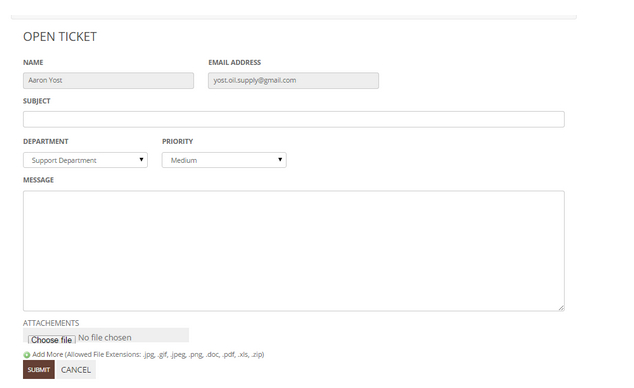 Under the Open ticket link/tab – A interface will come up as an image above
Include a short subject line that reflects the issue/reason why you're opening the ticket
Under message, please include the body of your message in details
If needed, or you prefer, you can upload any relevant document below
Submit your ticket