PROFESSIONAL WEBSITE DESIGN AND DEVELOPMENT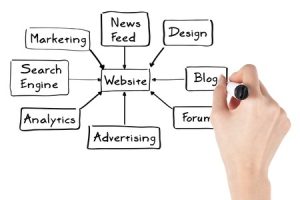 At RIICON we have perfected our process to give you the best experience possible. From conceptualization to Design and eventually full development, our teams of professionals will get the job done for you like none other. It's as easy as 1, 2 3! Your website is one of your most important marketing pieces. Check out the tabs above to find out more about our process from start to finish.
CONCEPTUALIZE
This is the process where your vision starts to come to life. When you are thinking about the perfect website for your business or organization you begin to visualize what your site will look like, what it will accomplish, and ultimately how it will help you to grow your target audience to places your four wall would never reach. In this stage we dream the dream with you. Our team of sales professionals will look at where you are, hear where you want to go, and start to devise a web strategy that will help you maximize your conversions after exposure.
DESIGN
Once the concept for your project is clear and we know what needs to be accomplished, our team of trained web specialists will take your vision and direct their design efforts to meet your end goal. In this phase Riicon gives you a lot of options. From our pre-made website templates to our custom packages for much larger projects, we will maximize your budget during our design phases to give you the "biggest bang for the buck". Through years of refining our process you are assured a design that will give that "wow" factor for much less than many of our competitors.
DEVELOP
Now that we have conceptualized your dream and designed it, the fun stuff starts to happen. The development stage is when your dream meets our profiessionals and finally they are placed within our CMS for easy on the fly page editing whenever you want. Our trained team of seasoned developers will make the project a reality.
Common Questions Related to Website Design & Development
Q. How long does this whole process take?
This is a great question. Some of this will depend on what kind of website setup we are doing for you. If you are using one of our pre-made template options and you are responsive to us, your website will take 2 to 3 weeks to provision. If you are doing a completely custom layout and have us setting up the content for you it could take 6 to 8 weeks
Q. What is the difference between a pre-made template and a custom design?
You can find our pre-made template options on our designs page. These are designs that have their frameworks already in place. In other words they have already been developed and are functioning waiting for your content. A completely custom site requires a design and development from scratch. The advantage of a custom is if you can dream it we can build it. The disadvantage is the price tag. We offer both types of services as well as a "hybrid" of the two.
Q. How will we edit our website after it goes live?
At Riicon we build your website in the latest technologies and frameworks. Our team of support specialists will always be here for you, but our system is designed to allow you to edit your own content. You only need an internet connection and a browser. Simply login and edit your pages and content with ease. If you have a question or issue you then call us or submit a ticket in our support ticket system.
Q. What's a content management system (CMS)?
A content management system is a software on the server that allows you to edit your website efficiently without having to know a programming language. It allows an average person to edit a site efficiently with only a browser and an internet connection.
Q. Will I be able to make changes to the website once it is completed?
Absolutely! Our content management system (CMS) will allow oyu to edit your site. If you need help we are here to give you advice and support as part of your monthly package.
Q. How many pages can I have?
There is no limit to pages. You can setup as many pages as you would like with our content management system (CMS).
Q. Do we need to meet in person?
We do websites locally and nationally. Everything that we do can be done through a phone conversation or virtual online meeting. We have launched successful sites and can design, develop, host, and support websites from all over the world.
Q. Can I upgrade to a larger package later?
You can update your package at any time. Your next bill will reflect your higher rate when you decide to upgrade. It is a very simple process.
Q. Can I use GoDaddy or some other host for hosting my website?
Because of the complexity of the web today and the nature of security threats and upgrading of the CMS on an ongoing basis there is no way we can support sites that may be on "sub par" hosting platforms. To keep the quality of our websites and our reputation we require you to host your site on our servers.
Q. I already have a website and need it updated, can you help me?
We can support your current website as long as it is built on a sustainable platform. You can contact us to find out if this is possible. In 90% of the cases we can move, secure, update, and host your current site for you when you move into one of our comprehensive packages.
Q. Why are you different than hundreds of other web design companies?
We realize that there is a lot of competition out there. Many companies either under price or over price their product and you as the client are left with a over or under inflated web presence. At Riicon we have found that "sweet spot" between price and quality that allows us to service small mom and pop businesses up to larger cooperate sites.
Q. I like someone else's website, can I have a similar one?
If you pick our custom package we can design your site however you like. We will not clone another persons site however. Our designers will look at your desired "look" and design your new site around that layout. It is unethical to copy a website, so our motto is we will take the site you like so much and make it even better.
Q. How should I supply the content for my website?
This will depend on what package you buy through us. If you are paying us to setup your pages, we can take the content in docx files a page at a time. Often times clients find that it is just as easy to upload the content directly to the site rather than to upload doc files individually. This is flexible and we will work with you on a case by case basis.
Q. Will my website to be #1 on Google
There are no guarantees with Google placement. If you buy one of our marketing SEO packages we will instil our years of knowledge to give you the best placement as possible over time. SEO placement is more of an art than a science. Anyone that promises you differently is stealing your money and lying to you. We are honest and work hard to give you great placement, but in the end your content will reign supreme. If you have a worthwhile site folks will come to visit you on it.